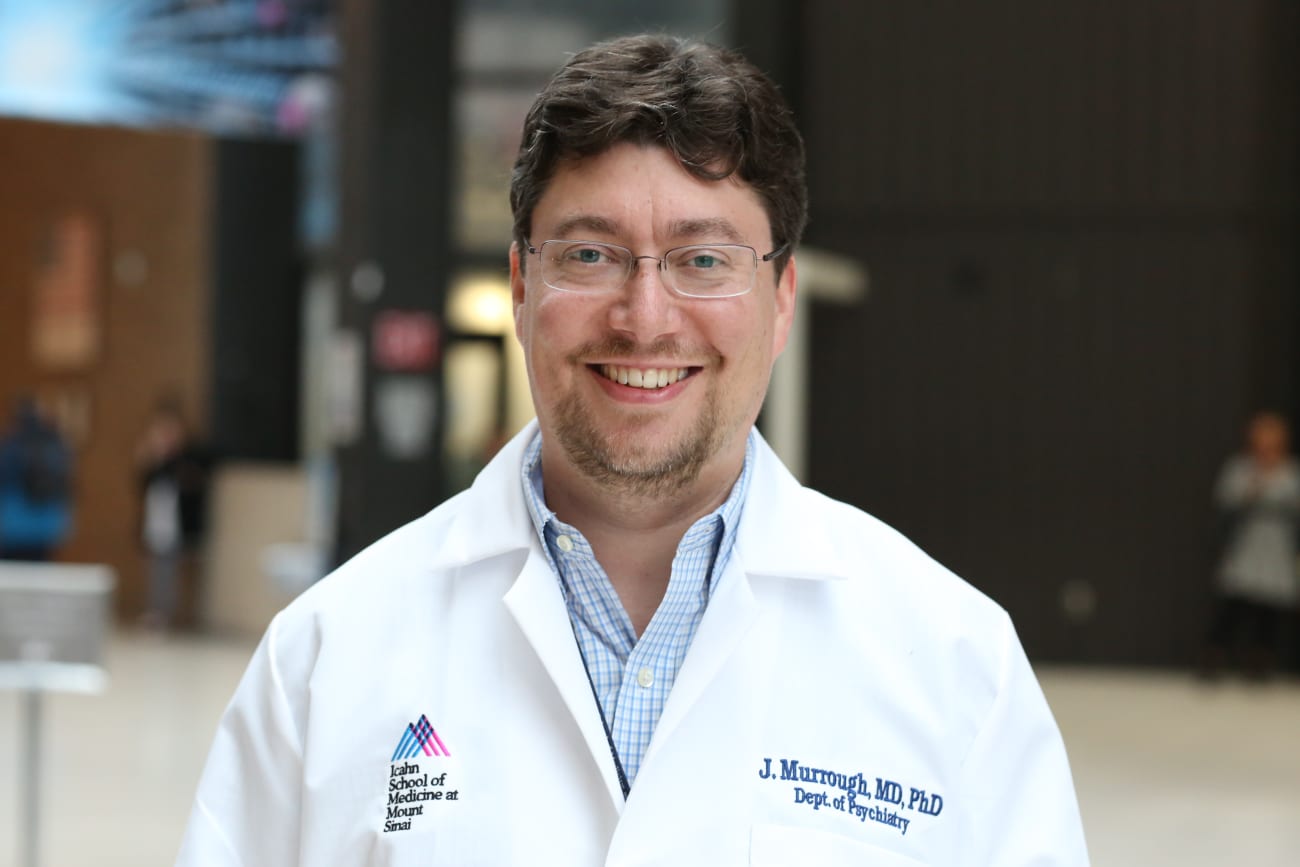 Dr. Murrough recently launched a TRD Program featuring esketamine as a treatment option, and is a leader in clinical research aimed at discovering antidepressants with novel mechanisms of action.
In March 2019, intranasal esketamine—a form of ketamine marketed as SPRAVATO™ CIII Nasal Spray*—was approved by the U.S. Food and Drug Administration (FDA) to treat patients with treatment-resistant depression (TRD). James Murrough, MD, PhD, Director of Mount Sinai's Depression and Anxiety Center for Discovery and Treatment, was deeply involved in the research that led to esketamine's FDA approval. In November 2019, he launched a TRD Program at the Icahn School of Medicine at Mount Sinai, featuring esketamine as a treatment option. Below, Dr. Murrough breaks down the top five things to know about esketamine based on his experience over the past decade.  
1. What it is. Esketamine is a potent variant of the drug ketamine, which has been used for 50 years in medical settings as an FDA-approved anesthetic. Ketamine is used off-label to treat depression, typically via intravenous infusion; esketamine, on the other hand, is administered at registered centers via nasal spray and is now FDA-approved for the treatment of TRD in conjunction with an oral antidepressant. It is classified as a controlled substance, and is not available for use outside of approved treatment centers. Prescription of esketamine is restricted through a specialized FDA-regulated program designed to minimize potential risks associated with a medication, known as a Risk Evaluation and Mitigation Strategy (REMS) program.
2. How it works. Via a series of complex biological processes, esketamine enhances the activity of glutamate in brain regions that are important for mood. (Glutamate is the principal neurotransmitter that excites cells in the brain and throughout the central nervous system.) This alteration in glutamate signaling is thought to increase neuroplasticity to 1) allow the brain to cope more effectively with stress, and 2) reverse depression-related brain changes. Because impaired neuroplasticity is linked to depression, the patient's symptoms improve as the neuroplasticity increases, enhancing resiliency and enabling the patient to create new, more positive thoughts and behaviors.
3. How it's administered. Esketamine takes five to ten minutes to administer via nasal spray, but patients remain under supervision for two hours for monitoring and are unable to drive for the rest of the day. The antidepressant effects may occur within days in some patients, in contrast to other antidepressants that typically require at least four to six weeks for effectiveness. As stated in the esketamine prescribing information, the treatment course begins with an acute induction phase that involves administering the nasal spray two times a week for four weeks. The first dose of this induction phase is 56 mg; however, the dose may be increased to 84 mg at subsequent visits depending on the patient's reaction. If the patient exhibits evidence of the therapeutic benefit at the end of induction phase, the patient enters the maintenance phase of treatment. For this phase, dosing frequency should be decided on a case-by-case basis to determine the least frequent amount that still maintains clinical improvement.
4. Side effects. The most common side effects of esketamine are dissociation, dizziness, nausea, sedation, vertigo, hypoesthesia, anxiety, lethargy, increased blood pressure, vomiting, and feeling drunk. Additional data is being collected on an ongoing basis, and will likely uncover insights about potential longer-term side effects associated with continuous treatment.  
5. The evidence. Years of research beginning in the late 1990s culminated in esketamine being developed and then approved in 2019 as the first mechanistically novel, non-monoaminergic antidepressant for patients with TRD. Early academic studies showed that even single doses of intravenous ketamine led to rapid and robust antidepressant effects in patients with TRD, with short-term responses rates generally between 60 and 70 percent. Subsequently, FDA registration trials testing the antidepressant effects of esketamine in TRD were comprised of three short-term trials, one randomized withdrawal trial, and one open-label longer-term safety study. FDA approval was granted based on two positive efficacy studies (one short-term and the randomized withdrawal trial), together with an acceptable safety profile. Meta-analytic studies using all available data confirm that treatment with esketamine leads to a significant beneficial effect in patients with TRD.
Dr. Murrough is currently a site investigator on the ongoing multi-center clinical trial known as ELEKT-D, which compares the safety and effectiveness of ketamine vs. electroconvulsive therapy. He is actively involved in clinical research aimed at discovering safe, effective antidepressants with novel mechanisms of action.
If you find our research and clinical experience valuable for the field and your patients, please consider voting for The Mount Sinai Hospital via Doximity in the U.S. News & World Report Best Hospitals rankings for Psychiatry. Your vote helps make it possible for us to continue to uncover and explore paths to prevention and treatment of psychiatric disorders.
*Mount Sinai was involved in the research that led to the development of this new treatment method for treatment-resistant depression and receives financial remuneration from the manufacturer of SPRAVATO. Mount Sinai's Dean is a co-inventor of patents related to this new treatment method and as such receives remuneration through Mount Sinai from the manufacturer. For more information about these financial interests and Mount Sinai's leadership role in SPRAVATO, please visit bit.ly/esketamine-development.(Dr. Murrough does not have a financial interest in SPRAVATO.)